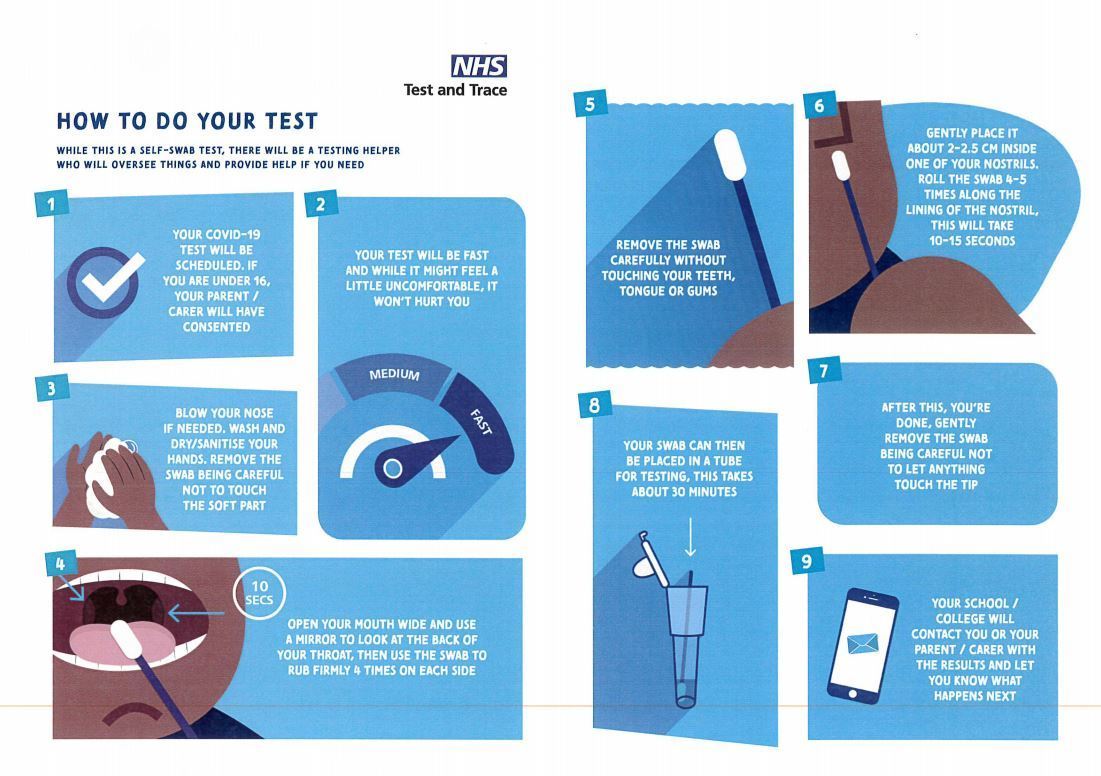 Advice for parents/how you can continue to support the measures
Please continue to be aware of COVID symptoms, follow the below guidance and keep up to date with any changes.
Students using ERYC school bus facility
If your child uses either school or public transport to travel to school, they will be required to wear a face covering. Disposable coverings should be thrown away after each use, so it is recommended that reusable cloth coverings are used. If a student loses their mask during the school day and requires one for their journey home, the school will be able to provide a one-use disposable mask. Please see Government Guidance below.
Testing and tracing for coronavirus
If a student or a member of your family have symptoms, we would ask that you remain at home and follow isolation rules and we encourage you to take part in the NHS tracing programme. If you are ever unsure, please ring the school and we will do our best to advise. Further links are available on our Important Information page and can be found by clicking here
When to self-isolate and what to do
Advice of shielding
If you would like more information and further advice on shielding, we have provided the link below.
www.gov.uk/government/publications/guidance-on-shielding-and-protecting-extremely-vulnerable-persons-from-covid-19/guidance-on-shielding-and-protecting-extremely-vulnerable-persons-from-covid-19
Guidance for parents and carers on supporting children and young people's mental health and wellbeing during the coronavirus (COVID-19) outbreak:
East Riding Local Offer page, available below, aims to keep you all notified of the current guidance and information from Central Government and Public Health:
eastridinglocaloffer.org.uk/coronavirus
Coping Calendar - Keep Calm/Stay Wise/Be Kind/Helpful Resources
BPS -
Talking to Children about Coronavirus. COVID-19 How can I support my child with their anxiety? -

Great tick box tool to help support your child
Safeguarding R

esources and Links:
The following links/contact numbers provided to help parents and professionals:
Early Help, Guidance and Support:
NSPCC helpline: 0808 800 5000 If you're worried about a child, even if you're unsure, contact NSPCC professional counsellors for help, advice and support.
Childline 0800 1111: offers free, confidential advice and support for any child 18 years or under, whatever the worry.
MIND: Mental Health Support with specific advice on 'Coronavirus and your wellbeing'
Youngminds: offers support to children and young people and their parents/carers with their mental health and wellbeing. Specific advice on managing self-isolation and anxiety about coronavirus. Please select our 'Support Networks' page here.
Family Relationships:
Covid-19 advice and tips for healthy relationships can be found at:
SafeLives have developed specific resources for domestic abuse and COVID-19 for both professionals and families around DA:
National Domestic Violence Helpline: 0808 2000 247 www.nationaldahelpline.org.uk
School Nurse
In light of the guidance, support nurses are available 9am - 5pm Monday to Friday, via ChatHealth.
Health Visitors and School Nurses site below. This website is a useful resource for Parent/Carer queries, and also contains information to support young people.
Duty teams are also available to answer any queries. For each localities duty team please see the following link: