Covid 19 Vaccination Programme
The Covid 19 vaccination programme will be rolled out in school shortly, (date to be confirmed). In the meantime, please refer to the documents below, these may address any questions you may have.
| Name | |
| --- | --- |
| PHE_12073_COVID-19_guide_for_all_CYP (1).pdf | Download |
| PHE_12073_COVID-19_Parents FAQs_A4_04 (WEB).pdf | Download |
| UKHSA_12073_COVID-19_easy_read_jab_consent_form_CYP.pdf | Download |
| UKHSA_12073_easy_read_COVID_vaccine_at_risk_CYP.pdf | Download |
| UKHSA_12073_easy_read_COVID_vaccine_at_risk_CYP.pdf | Download |
Showing 1-5 of 5
Coronavirus Step 4 Information. September Return
For September return the DfE have asked secondary schools to complete mass testing for asymptomatic cases of COVID-19.
Home Testing
Home test kits will be given to all students who have consented to being tested in school. Each kit provided contains three tests, which includes an instruction leaflet. Students are able to complete their tests twice weekly. Taking part in testing is voluntary and all children will be able to attend school whether they take part or not. We hope that the option to take the test in the morning or the evening will support families to test at home.
Students must report their result to NHS Test and Trace as soon as the test is completed either online or by telephone as per the instructions you will receive in the home test kit, we have provided the online link www.gov.uk/report-covid19-result. Students should also share their result, whether void, positive or negative with The Hub School by clicking here, this will help us with contact tracing. Students aged 12 to 16 should self-test and report with adult supervision. Students aged 11 should be tested by an adult.
If a student tests positive using the Lateral Flow home testing kits they must follow this up with a PCR test at their local Covid testing centre to confirm the positive result. If the result is negative, students can continue to attend school and use protective measures.
Any positive results should be reported to the school via the following email COVID19@erhub.org.uk.
Please call the school office on 01482 304200 who would be happy to assist with any questions you may have.
Consent
Our consent form has now closed. Please telephone the office if you need any further advice.
Anyone experiencing symptoms should follow government guidelines to self-isolate, even if they have had a recent negative lateral flow test.
Consent relates to the following groups of students as follows:
For students and students younger than 16 years - the form must be completed by the parent or legal guardian. Please complete one consent form for each child you wish to participate in testing.
students and students over 16 who are able to provide informed consent - can complete the form themselves, having discussed participation with their parent/carer if under 18.
For any student who does not have the capacity to provide informed consent - the form must be completed by the parent or legal guardian. Please complete one consent form for each child you wish to participate in testing.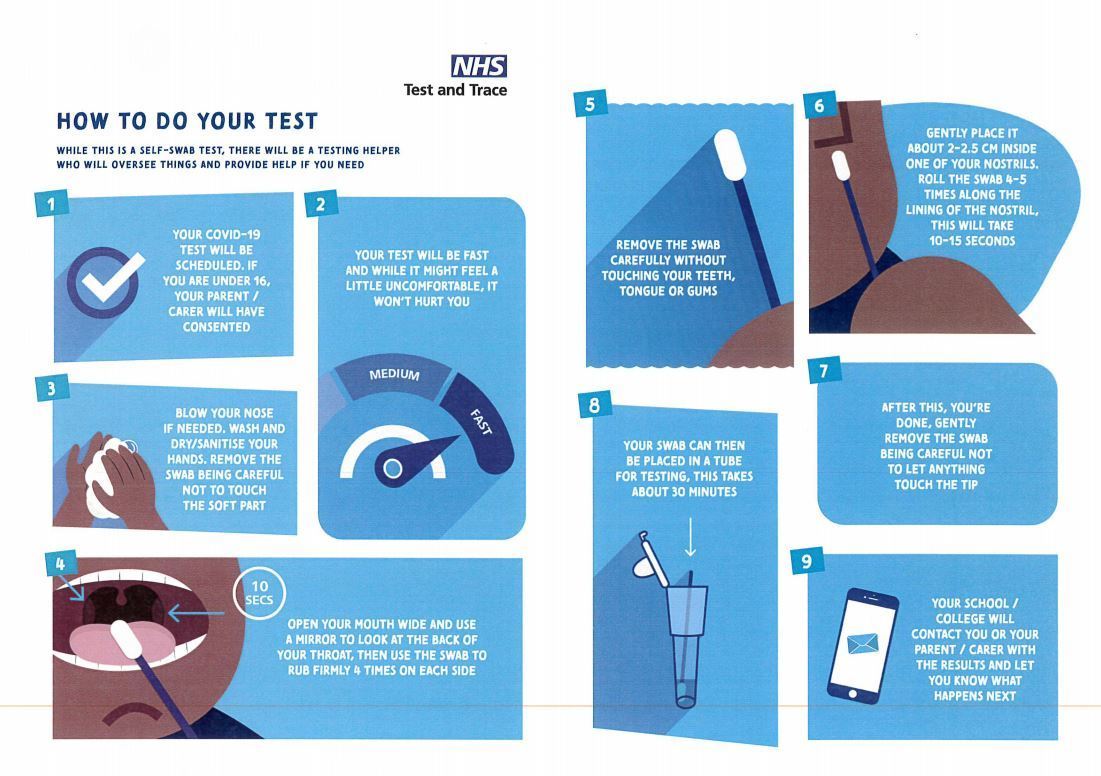 Advice for parents/how you can continue to support the measures
Please continue to be aware of COVID symptoms, follow the below guidance and keep up to date with any changes.
Students using ERYC school bus facility
If your child uses either school or public transport to travel to school, they will be required to wear a face covering. Disposable coverings should be thrown away after each use, so it is recommended that reusable cloth coverings are used. If a student loses their mask during the school day and requires one for their journey home, the school will be able to provide a one-use disposable mask. Please see Government Guidance below.
Testing and tracing for coronavirus
If a student or a member of your family have symptoms, we would ask that you remain at home and follow isolation rules and we encourage you to take part in the NHS tracing programme. If you are ever unsure, please ring the school and we will do our best to advise. Further links are available on our Important Information page and can be found by clicking here
When to self-isolate and what to do
Advice of shielding
If you would like more information and further advice on shielding, we have provided the link below.
www.gov.uk/government/publications/guidance-on-shielding-and-protecting-extremely-vulnerable-persons-from-covid-19/guidance-on-shielding-and-protecting-extremely-vulnerable-persons-from-covid-19
Guidance for parents and carers on supporting children and young people's mental health and wellbeing during the coronavirus (COVID-19) outbreak:
East Riding Local Offer page, available below, aims to keep you all notified of the current guidance and information from Central Government and Public Health:
eastridinglocaloffer.org.uk/coronavirus
Coping Calendar - Keep Calm/Stay Wise/Be Kind/Helpful Resources
BPS -
Talking to Children about Coronavirus. COVID-19 How can I support my child with their anxiety? -

Great tick box tool to help support your child
Safeguarding R

esources and Links:
The following links/contact numbers provided to help parents and professionals:
Early Help, Guidance and Support:
NSPCC helpline: 0808 800 5000 If you're worried about a child, even if you're unsure, contact NSPCC professional counsellors for help, advice and support.
Childline 0800 1111: offers free, confidential advice and support for any child 18 years or under, whatever the worry.
MIND: Mental Health Support with specific advice on 'Coronavirus and your wellbeing'
Youngminds: offers support to children and young people and their parents/carers with their mental health and wellbeing. Specific advice on managing self-isolation and anxiety about coronavirus. Please select our 'Support Networks' page here.
Family Relationships:
Covid-19 advice and tips for healthy relationships can be found at:
SafeLives have developed specific resources for domestic abuse and COVID-19 for both professionals and families around DA:
National Domestic Violence Helpline: 0808 2000 247 www.nationaldahelpline.org.uk
School Nurse
In light of the guidance, support nurses are available 9am - 5pm Monday to Friday, via ChatHealth.
Health Visitors and School Nurses site below. This website is a useful resource for Parent/Carer queries, and also contains information to support young people.
Duty teams are also available to answer any queries. For each localities duty team please see the following link: