Costello Stadium - Mini Athletics
.Students from class 7B and 8A took part in a Panathlon Challenge Day at Costello Stadium. The event focused on targeting young people who would benefit from becoming more physically active and developing confidence, as well as self-esteem.
The students took part in various activities throughout the day, including; field athletics events (standing long jump and speed bounce), boccia blast, new age kurling, floor tennis, and ten pin topple.
The students showed exemplary behaviour throughout the day, whilst improving their coordination skills and other areas of fitness.
Most importantly, all of the students commented on how enjoyable the experience was and everyone ended up receiving a medal for their efforts. The team finished in 3rd place overall.
Please take a look at our slideshow below.
Animal Assisted Therapy Sessions - Pet Respect
.Buddy and Sookie, along with staff at Pet Respect have been attending the school to deliver Animal Assisted Therapy sessions. The therapy dogs have had a very calming effect on the students involved and we have loved having them in school each week.
The dogs coming in and working with the students has been a success and a very positive experience for all. Our students have been able to build up relationships with the dogs and have even had them doing tricks.
Students have engaged in the sessions really well. Well done to Megan in particular as she has made the most progress so far. Megan was the first student to receive a Certificate of Participation.
Please take a look at our slideshow below.
Alternative Curriculum Day - Murder Mystery Themed
All students took part in the murder mystery themed Alternative Curriculum Day, which gave the students experiences that they would not get from the usual curriculum. Students spent the day preparing and performing a scene in a murder mystery play, which lead to them being able to solve the crime.
Students took part in a variety of activities throughout the day, including; making props and cooking.
Lots of fun was had by all over the course of the day. Students had the opportunity to try something different with students they would not usually work with.
We have some great performers and detectives amongst us.
Please take a look at our slideshow below.
Alternative Curriculum Day - Sport Themed
Fun was had by all during our sport themed Alternative Curriculum Day with students participating in running, jumping and throwing events as well as activities that required co-ordination, balance, power and strength. Activities included javelin, shot putt, archery, boules, hurdles, skipping, 3-legged race, tug of war, long jump, egg and spoon races, bike races, flag painting and the day finished off with a Euro's themed football competition where each team represented a team from the Euro's - including Italy, Germany, France, Spain and England. The activities supported with increasing self-confidence, team building and developing their social skills within competitive situations.
All in all, the students enjoyed the activities and experience of competing with each other and earning prizes for their participation. Please take a look at our photo slideshow below.
Year 11 Leavers Celebration
A huge congratulations to all of our Year 11 students. You have shown true resilience and adjusted with ease over the past 18 months. The many restriction's and safety rules did not stop our students from achieving, we are super proud of you all, and wish you lot's of success for the future. We hope you fully enjoyed your last week of school. Please take a look at our photo slideshow below.
Easter Celebrations 2021
Fun was had by all during our Easter celebration event, students took part in the traditional egg & spoon race, baking Easter buns & treats and egg decorating. Happy Easter everyone!
Red Nose Day 2021
Congratulations to all of our students and staff in raising vital funds for this important charity, we are very proud to announce that The Hub School have raised £200! Well done to all involved, as you can see from the pictures below everyone had a fantastic day.
Alternative Curriculum Day - Try Something New
Design & Technology
Tie-Dye Masks within our D&T lesson!
Prison Me No Way 2020
Prison Me No Way provides real life learning experiences for children and young people, they help to reduce risky behaviour and prevent becoming involved in crime. They guide and build confidence in students with the knowledge to take control, make positive choices and avoid becoming involved in crime, stay safe and realise their full potential.
World Book Day
Everyone enjoying World Book Day!
Stem Day 2020
Students took part in a STEM (Science, Technology, Engineering and
Maths) exercise in December
Children in Need 2020
Children in Need is the annual fundraising event and live TV show put on by the BBC to raise vital funds for important causes to change the lives of young people for the better. The Hub School raised £212.75 for this important event.
Activities included: Beat the Keeper, How many sweeties in the jar?, Duck Race Sweepstake, Raffle and more!
Remembrance Day 2020
Armistice Day is on 11 November and is also known as Remembrance Day. It marks the day World War One ended, at 11am on the 11th day of the 11th month, in 1918. A two-minute silence is held at 11am to remember the people who have died in wars. The staff and students held their own ceremony in the grounds with readings, a two-minute silence and each student placed a handmade poppy within the trees on site. The poppies were made by the students using upcycled drinks bottles, I'm sure you'll agree they looked really effective!
On March 13th 2020 we organised a Sports Relief day were children took part in different sporting activities throughout the day.
Boxing coach Mike Bromby Junior came in to test the children on their boxing skills were they did some circuit training and pad work.
All students took part in a very enjoyable and closely contested Staff Vs Students game of football, which ended up in a 4-3 victory to the staff! There was even time for half time oranges for refreshments in between the competitive action. Finally, in the afternoon, we all made our way to Haltemprice Leisure Centre whilst completing a 3 mile sponsored walk to raise money for Sports Relief. We all competed in a mixed-teams dodgeball tournament.
A successful day was had by all! All money raised goes to people living incredibly tough lives here in the UK and around the world. A big thank you goes to our staff and students!
No More Knives Project 2020
On the 4th March we welcomed into the Hub school the No More Knives Campaign. Mo Timbo who is originally from Peckham and involved in gang shared his story.
The students were interested in Mo's story and he regaled the evening he was stabbed in his arm and chest. We then listened to Kayliegh Pepper who's brother Richard would have had his 30th Birthday the following day but sadly he was murdered in an horrific knife crime. Staff and students fought back tears listening to Kayleigh tell how she would give anything for one more day with her brother Richard.
The students then listened to a real life murder investigation by Richard Whelan from Humberside police and the students were surprised to hear the driver on the night of the crime also got a hefty jail sentence for his part in this crime.
Finally the students met an author called Christina Gabbitas who has written a book all about knife crime. She signed a copy and gave every student their own copy.
Richard Whelan from Humberside police said he felt the day had more meaning to our students than some of the big talks he does in many large schools around the country. We would like to thank the No More Knives team for visiting us at The Hub School.
Christmas 2019 at The Hub School
Active 30 Leadership Camp
On Wednesday 16th October 2019 some of our students took part in Active 30 Inclusion 2020 Sports Leadership day at Haltemprice Leisure Centre. A special thanks go to our year 9 student Charlie, two year 10 students Jason and Connor and one year 11 pupil Quinn.
A summary of Active 30:30 by Charlie Year 9
On the day of active 30:30 I was told about many things one of which was about a Wimbledon tennis player who was there, she told us about her ups and down and why she didn't give up and neither should we. I and the group learnt that it about taking part and involving other people not just winning, we did a few activities such as team building relay race this helped us gain friends and get other people involved who normally wouldn't. We all had to create our own sort of activity but we had plans in case we got stuck, I think it was good learning from other schools as well as passing ideas on I felt out of my comfort zone but I kind of enjoyed that part of it. Quinn, Connor and Jason all took part and were a big confidence boost for me and members of other schools. Mr Renier and Mr. Brookes both gives us tips and helped us with imaging techniques for the written side of things. All in all we had fun and I think most of the adults did to and I hope to go to future events.
STEM Day
National STEM day focuses on helping kids advance in the fields of science, technology, engineering, art and maths. Students discussed their understanding around STEM which helps students ask questions, connect the dots, problem solve and think creatively! Please take a look at our many photo's of a fantastic day!
Child in Need - 15th November 2019
Children In Need is the annual fundraising event and live TV show put on by the BBC to raise vital funds for important causes to change the lives of young people for the better. The Hub School raised £107.70p for this important event. Activities include: Beat the Keeper, Duck Race Sweepstake, Raffle, Baby Quiz and more!
Children in Need Quiz
Each photograph is of a member of staff from The Hub. Can you guess who they are?
Anti-Bullying Week 2019
The Hub School took part in Odd Socks Day 12th November 2019.
WHY IS ODD SOCKS DAY IMPORTANT?
The day sends an important message to students that they should be allowed to be themselves free from bullying and helps us celebrate Anti-Bullying Week in a fun and positive way.
We gave out prizes for the most unique odd socks and raising the profile of Anti-Bullying Week.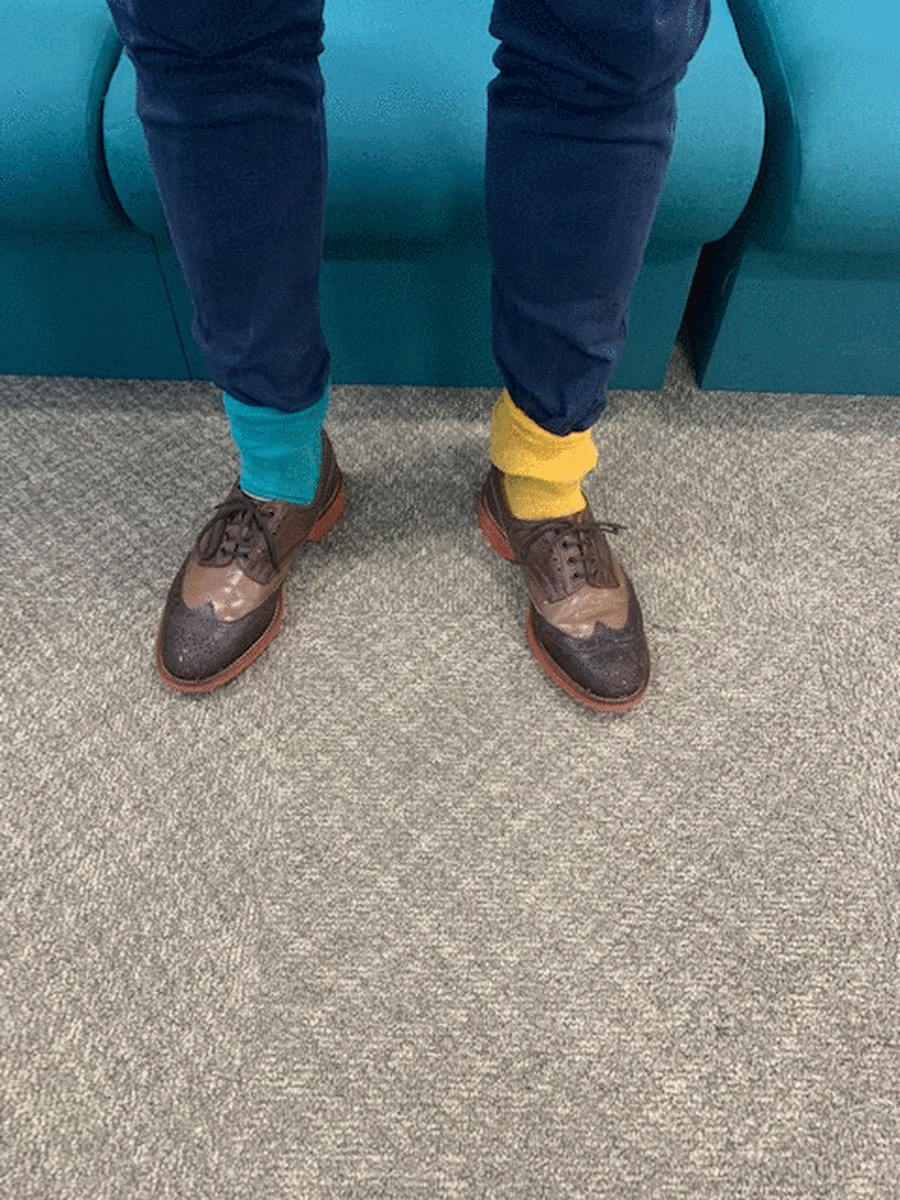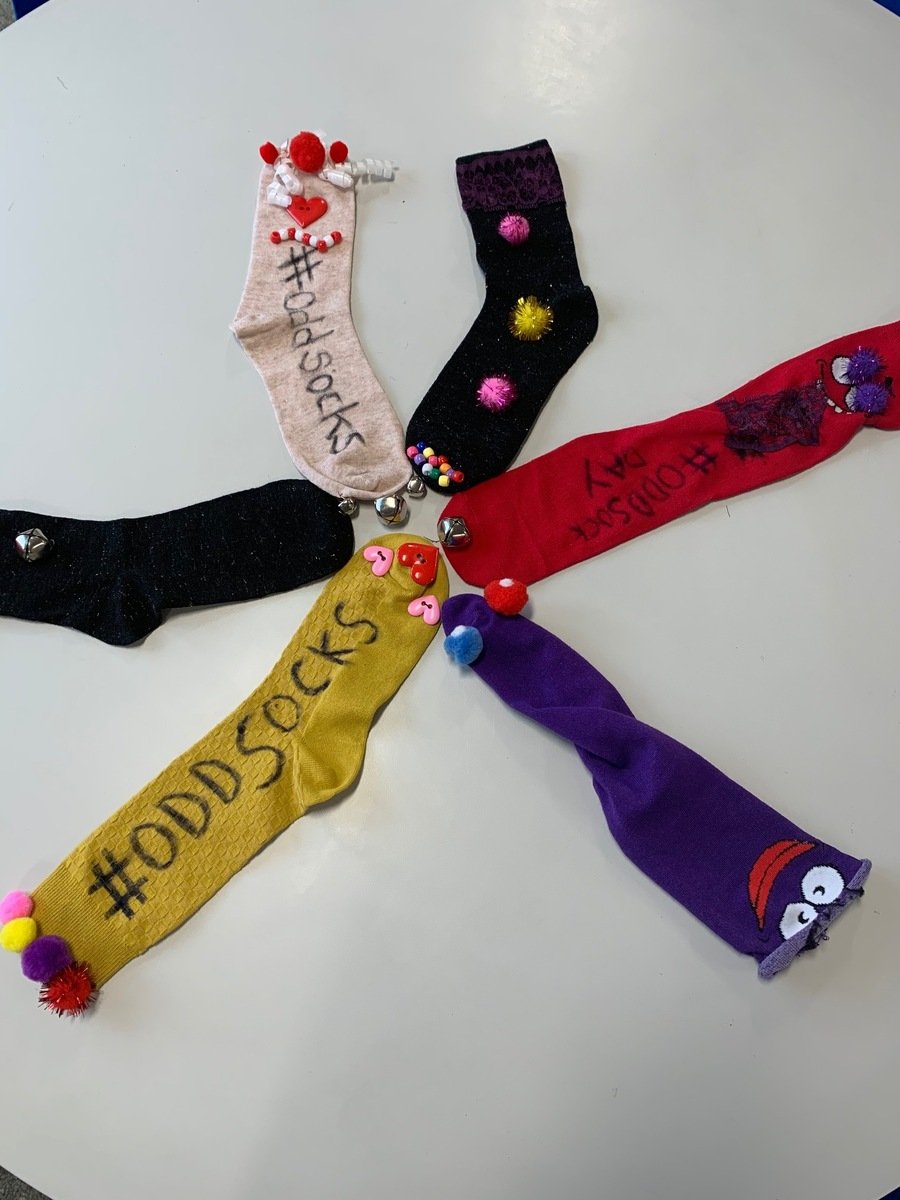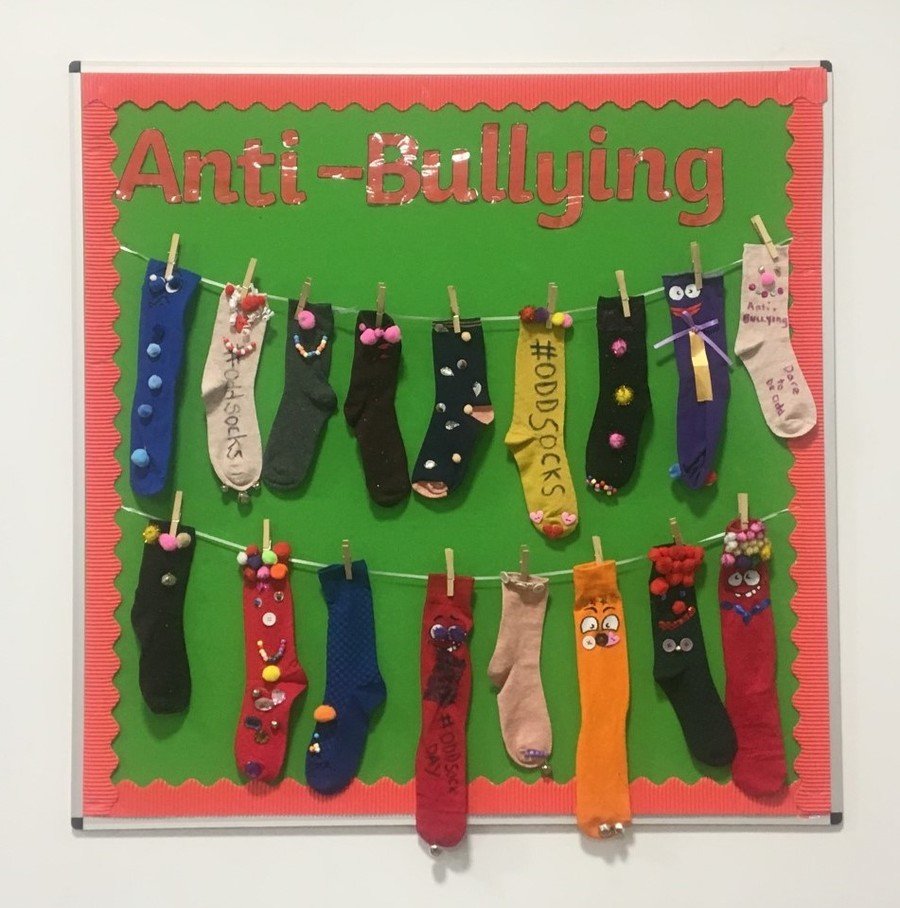 Sponsored Walk Event - September 2019
Supporting YOUNGMiNDS Charity
Macmillan Cancer Support - September 2019
World's Biggest Coffee Morning
At our Coffee Morning, we raised £100.05p